Solar panel cleaning robot
Structure and components of the product:
In terms of the functions, the cleaning robot mainly includes self-powered system, traveling system, control and communication management system, etc.

(1)Self-powered system
Self-powered system includes solar panel, storage battery and its accessory devices with auto power generation, auto charge and storage and self-monitoring functions.

(2)Traveling system
Traveling system includes rotating cleaning mechanism, driving motor and other parts that can make the cleaning robot move horizontally on the solar panel.

(3)Control and communication management systemThe system can realize the start and stop of the cleaning machine, operation state monitoring of the cleaning system and equipment protection as well as background communication function.
Product characteristics:

(1)Solar power generation, charging and electrical storage devices built in the system can be self-powered, which can start and stop at any time as required without being provided with external power supply.

(2) Cleaning medium is not necessary for realizing cleaning without water.

(3)Large cleaning area, single-way operation distance is up to 3000m.

(4)Good cleaning effect, cleaning efficiency is above 95%.

(5)Strong adaptability, it can apply to roofs, sheds, plains, hills, deserts, lake surface and other regions and terrains, and overall protection degree of control system is IP55, with the possibility of working around the clock.

(6)Cleaning part uses soft spiral brush made of high polymer materials, which will not damage the tempered glass on the surface of the photovoltaic component.

(7)The length and times for cleaning can be set based on different regions and seasons.

(8)The system has two operation modes: automatic remote control and in situ manual control, which can be switched over one another.

(9)Equipped with wireless module, it can realize telemetering and romote control.
(10)Mechanical structure with strong stability of operation is simple, reliable. It is quality guaranteed for two years.

(11)Equipment parts maintaining standardized and modular are easy to transport, install, debug.

(12)It is equipped with infrared temperature sensor sets so as to measure the temperature of evry silicon wafer to analyse venner generating.

(13) According to actual conditions of the plant, installing investment will be about 0.1-0.15RMB/W, which helps increase power generating efficiency by 6%-25%. It takes 1-2years to recoup their investment.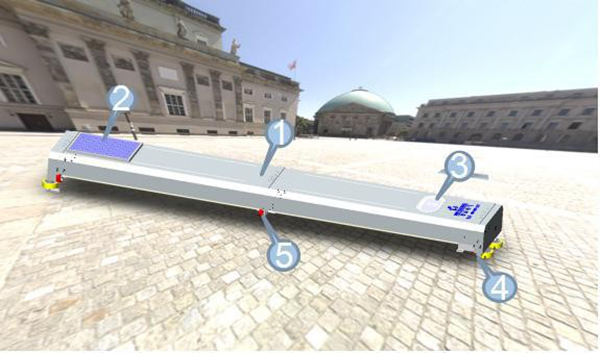 1--Shell protective cover

2--Self-powered photovoltaic panel

3--Intelligent electrical control system

4--Traveling mechanism

5--Cleaning mechanism


CONFIGURATION PARAMETER:
Item

Size

HW2-1(2)X/1650

HW2-1(2)X/3000

HW2-1(2)X/3320

HW2-1(2)X/4000

Over obstacle capacity(mm)

20

20

20

20

Substrate height(mm)

1650

3000

3320

4000

Walking distance(m)

800-1000

800-1000

800-1000

800-1000

Walking speed(m/min)

15

15

15

15

Walking power(W)

30

35

35

35

Brush power(W)

25

30

30

30

Power(W)

60

120

120

120

Machine weight(KG)

25

35

35

35

Machine width(mm)

400

400

400

400

Machine height(mm)

120

120

120

120

Machine length(mm)

2000

3300

3500

4300

Temperature(℃)

-40-70

-40-70

-40-70

-40-70

FOB price

2900USD

3250USD

3250USD

4700USD

Our Services:
Besides the high quality tunnel car wash machines, we also offer you professional after-sale service as follows:
Installation support:
We will arrange engineer to be your place to install the machine for you and teach you how to operate and maintain the machine,you need to pay the flight tickets and arrange accommodations.

English documents support:
We provide English operating manual and DVD document for each machine .It is clear enough and easy for user to operate . It includes how to install ,how to maintain ,how to deal with it when any possible problems occur .

Life time technical support:
Our experienced customer support team will help you solve technical problems .We guarantee to respond to your inquiry within 24 hours, whether it comes by phone, mail or fax.

Parts support:
Any accessories is available ,we can deliver it to you when you demand it .
FAQ
Payment term:30%
TT 30% in advance , balance payment before shipment.
Installation:
We arrange our technician to your place for assembling and training , just round air ticket and accommodation will be paid by your side .

Warranty:
Two years warranty after the normal operation , life time technical,maintenance and parts support.

Maintenance:
We will give you the manual books for daily operation and maintain .If breakdown happens,if we can't solve it by mail or phone,will be your place to handle it.


Parts:
We will leave some spare parts such as sensors,motors and so on to you for your replacement.If you need the list,feel free to let me know!